#PressRelease: TDS Calls on Property Industry to 'March in March' with TDS for 'Refuge'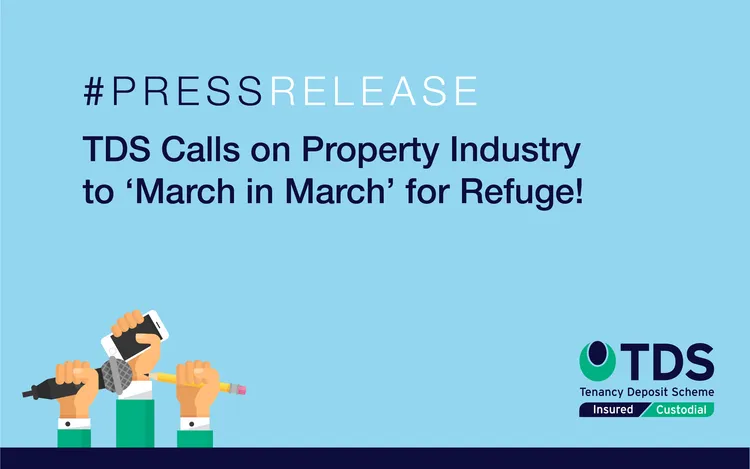 This March, Tenancy Deposit Scheme (TDS) is raising money and awareness for the domestic violence charity, Refuge. The aim is to highlight the wonderful work of the charity but also to raise awareness of the abuse that happens in homes throughout the UK every day.
On any given day Refuge supports more than 6,000 people, helping them to overcome many different forms of violence and abuse. During Covid-19, the charity reported a 700% increase in calls in a single day and a massive 950% increase in visits to their website during lockdown.
"After what has been a tough year for so many people, we wanted to give back and help those in need. The work and values of everyone involved with Refuge directly reflect ours here at TDS. No-one should ever live in fear of violence or abuse. We're hoping others in the property industry will join us in raising funds for the charity too" said Debbie Davies, Head of Sales and Marketing at TDS.
The goal of 'March in March' is for all involved to collectively walk the length and breadth of the UK (in approximate miles), from the start to the end of March.
TDS is giving organisations in the property industry the opportunity to choose a famous location or landmark, in England, Wales and Northern Ireland, from the 'TDS March in March challenge board', whether you want to walk the length of the Shard or trek the whole of the English coastal path, there is a distance and target to suit everyone.
"This fundraising event will be great fun and it's for such a worthwhile cause. No matter if someone walks 1 mile or 100 miles, every effort will help to raise money and improve the lives of others," added Debbie.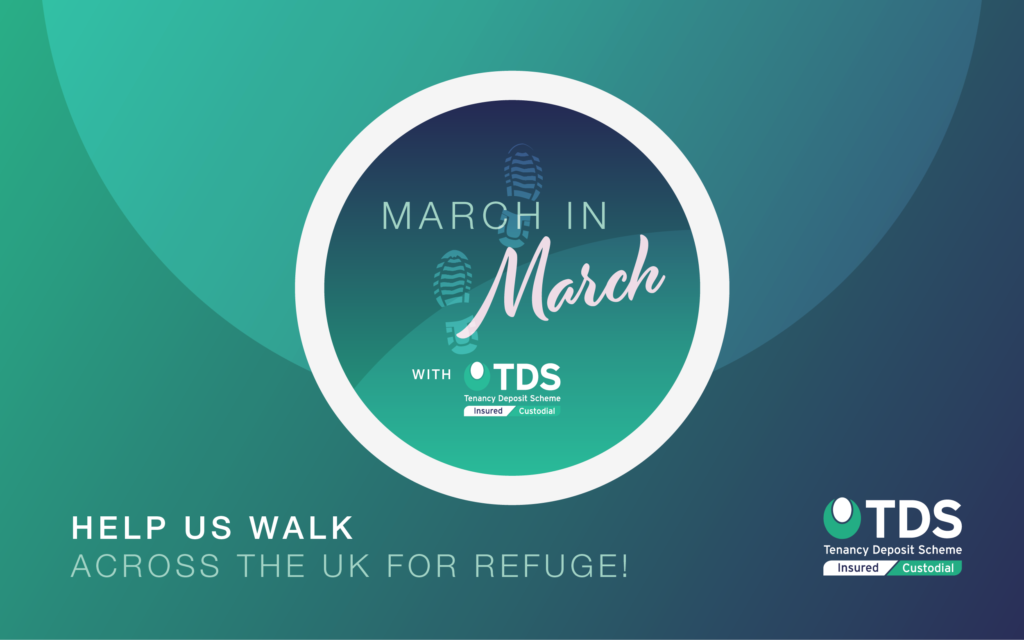 How Can I Get Involved?
Inventory Hive, ThinkEngine, Acaboom, Dawson's and Agents Giving are just a few of the organisations that have accepted the challenge so far, to help colleagues at TDS rack up the miles. If 'March in March with TDS' for Refuge sounds like something your organisation would like to get involved with too, it is easy to take part. Visit marchwithtds.tenancydepositscheme.com to find out more about making your mark on the battle against domestic violence.
*Please Note: By joining, you are consenting to your walking routes being viewable by other users in the group. To find out more information, please click here.
You can learn more about the great work of Refuge at: Refuge.org.uk
---
About Tenancy Deposit Scheme (TDS)
Tenancy Deposit Scheme (TDS) is a Government-approved scheme for the protection of tenancy deposits; TDS offers both Insured and Custodial protection and provides fair adjudication for disputes that arise over the tenancy deposits that we protect.
We provide invaluable training in tenancy deposit protection and disputes for agents and landlords through the TDS Academy as well as joining with MOL to provide the Technical Award in Residential Tenancy Deposits.
Join TDS Custodial for FREE today
TDS can only comment on the process for our scheme, other deposit protection schemes may have a different process/require different steps. Content is correct at the time of writing.
These views are those of the author alone and do not necessarily reflect the view of TDS, its officers and employees.