#AskTDS: "Can landlords attend TDS Academy workshops?"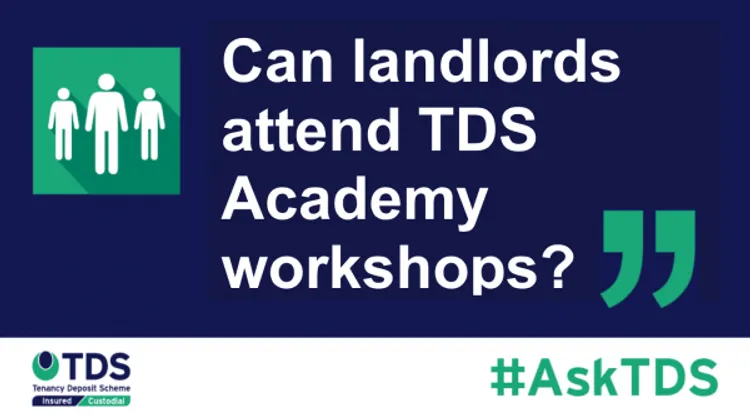 This week, our Director of Dispute Resolution and host of TDS Academy events, Michael Morgan, answers a landlords' question: "Can landlords attend TDS Academy workshops?"
The short answer is yes. The long answer is yes; our Academy Workshops are open to all landlords, letting agents and property professionals who are interested in developing their skills and knowledge around tenancy deposits of privately rented properties.
Our courses travel across England, Wales and Northern Ireland to spread our knowledge of best practice and to hear from landlords and letting agents about their experience of tenancy deposit protection and adjudication.
The TDS Academy Foundation Course is a full-day course, focusing on the key points of tenancy deposit protection, designed specifically for landlords, property managers and letting agents and inventory suppliers.
Delivered in a quiet environment, our presenters will take you through the timelines and requirements of tenancy deposit protection to help you avoid costly errors when it comes to registering a deposit.
The TDS Academy delivers expert guidance on the lifecycle of a tenancy deposit, from registration and repayment, through to the alternative dispute registration process. This will include how to confidently understand which tenancy deposit issues may already be resolved and what kinds of evidence you can prepare to save time and be more efficient should there be a dispute at the end of the tenancy.
Attendees will have the opportunity to ask questions, discuss specific scenarios and meet other people involved in the private rented sector (PRS).
As well as the Foundation Course, we also offer the TDS Academy Adjudication Workshop. Designed to make attendees 'think like an adjudicator', the half-day course will focus on TDS Alternative Dispute Resolution (ADR), discuss scenarios, and identify the kind of evidence an adjudicator looks for in a tenancy deposit dispute.
Both courses are hosted in various locations around the country. The next scheduled events are:
Foundation course
Lincoln
21 November 2018, 09:30 – 16:30
Register here
Adjudication workshop
Liverpool
24 October 2018, 09:00 – 12:30
Register here
Cardiff
28 November 2018, 09:00 – 12:30
Register here
About the author
Having practised as a solicitor, Michael Morgan has been involved in dispute resolution for over 20 years. His previous roles have included leading the consumer advice service for Hertfordshire Trading Standards; Michael was also the Chief Conciliation Officer for Qualitas, the Furniture Ombudsman, where he took a formative role in its transition to Ombudsman status.
Michael joined TDS in 2006 as a Deputy Independent Case Examiner. He is now responsible for the overall management of its dispute resolution service and the quality of its adjudication functions. Michael has also led a number of key 'behind the scenes' innovations at TDS.
Michael has also been asked to judge in the UK Complaint Handling Awards since 2017.
About TDS
Tenancy Deposit Scheme (TDS) is a Government-approved scheme for the protection of tenancy deposits; TDS offers both Insured and Custodial protection and also provides fair adjudication for disputes that arise over the tenancy deposits that we protect.
We provide invaluable training in tenancy deposit protection and disputes for agents and landlords through the TDS Academy as well as joining with MOL to provide the Technical Award in Residential Tenancy Deposits.
TDS Insured Scheme: where a TDS member can hold the tenancy deposits as stakeholder during the term of the tenancy.
TDS Custodial Scheme: where TDS hold the deposit for the duration of the tenancy.
TDS Academy: TDS provides property professionals with invaluable training in tenancy deposit protection and tenancy deposit disputes.
TDS Northern Ireland: TDS is Northern Ireland's leading and only not for profit tenancy deposit protection scheme.
TDS can only comment on the process for our scheme, other deposit protection schemes may have a different process/require different steps. Content is correct at the time of writing.
These views are those of the author alone and do not necessarily reflect the view of TDS, its officers and employees.
ARLA Propertymark: For agents who would like to stay up to date, you can contact Propertymark | ARLA at: join@propertymark.com. By being a member of Propertymark | ARLA you will be eligible for TDS Insured best headline rates.
RLA: If you are a landlord and would like to keep up to date with any changes that may affect you or your responsibilities, you can contact the RLA at: info@rla.org.uk and quote reference: dg715 to receive 25% off your first year's membership.